Crawl Space Dehumidifier Installation in Southern Florida
High-Performance Dehumidification & Air Filtration for Your Crawl Space
Moisture damage. A crawl space that doesn't have proper airflow will have problems with moisture, mold, and wood rot.
Humidity and condensation in a crawl space is a recipe for disaster. Excess moisture leads to mold growth, wood rot and foul odors, causing issues for your home's health, air quality and value.
At NSquare, Inc., we specialize in preventing these problems with our patented crawl space dehumidifier and ventilation fan. As part of our complete crawl space encapsulation system, these products will ensure that your home has clean, dry air and help protect your crawl space from mold and other damage.
If you've had issues with mold, wood rot or other crawl space humidity problems, call us today at 1-844-928-1124 or contact us online to learn more about how we can help! We offer free estimates on all our work in Weston, Naples, Wellington and throughout the surrounding areas in Florida.
How Humidity Affects Your Crawl Space
The stack effect. This diagram shows how cool air is pulled in through the lower levels of your home (click to enlarge)
Homes have never been completely airtight structures and over the years outside air has become more accessible through both the changes you've decided to make to it and the natural decay of building products. This allows humid air to get into your crawl space, where it inevitably condenses and begins to cause problems.
Warm air rises and exits through upper windows and the roof, creating a vacuum in your home. In below grade spaces, this void is filled with humid air drawn from the outside. Once in your crawl space, this air condenses and leaves standing water before it works its way up and out of the home. Known as the stack effect, this process will worsen over time and create mold and wood rot while hurting your energy efficiency.
At NSquare, Inc., we solve these problems with our crawl space encapsulation system and crawl space dehumidifiers. By sealing your crawl space off from the outside, we can create an environment that remains dry, clean, healthy and far more energy efficient.
---
SaniDry™ Sedona Dehumidifier
Low maintenance paired with high performance. Our SaniDry™ Sedona is the industry-leading dehumidifier capable of handling Florida's notorious high humidity.
The SaniDry™ Sedona offers giant performance in a small package. It's the world's most efficient, high-performance dehumidifier, without a bulky heat exchange core. The Sedona easily fits in small crawl spaces, yet has a powerful blower to effectively dry large crawl spaces. Mold and mildew are common in crawl spaces, but the Sedona keeps the relative humidity below 55%, so mold won't stand a chance. As a high-efficiency ENERGY STAR® certified dehumidifier, the Sedona removes more moisture (100 pints per day) for less electricity cost than conventional models.
The SaniDry™ Sedona dehumidifier drains automatically and has a humidity sensor that monitors the air, so once it's installed, there's nothing else to do. Your crawl space will be drier and healthier - and so will the rest of your home too!
---
Get a Quality Crawl Space Dehumidifier for Your Home Today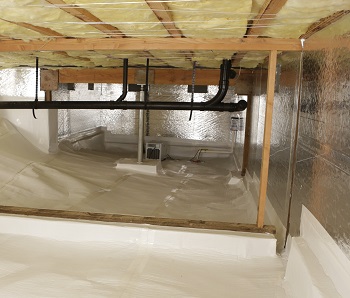 Protect your crawl space from humidity and moisture problems. The SaniDry™ Sedona is the perfect addition to any Florida crawl space.
If you've had issues with mold, wood rot or rising utility costs, the experts at NSquare, Inc. can provide you with a quality solution. We specialize in crawl space repair and encapsulation and we know what it takes to prevent humid air and excess moisture from damaging your home.
Our experts will come out to your home to inspect any damage and give you a comprehensive estimate on the work that needs to be done. Our technicians always work hand in hand with homeowners to pick the services and products that will work best for your home.
Call us today at 1-844-928-1124 or contact us online to schedule your free, no-obligation on-site estimate on a crawl space dehumidifier for your home. We install all our crawl space products in Wellington, Weston, Naples, Coral Springs, Jupiter, Pembroke Pines, Boca Raton, Myakka, Royal Palm Beach, Kendall and throughout the surrounding areas.
Looking for a price? Get a no cost, no obligation free estimate.